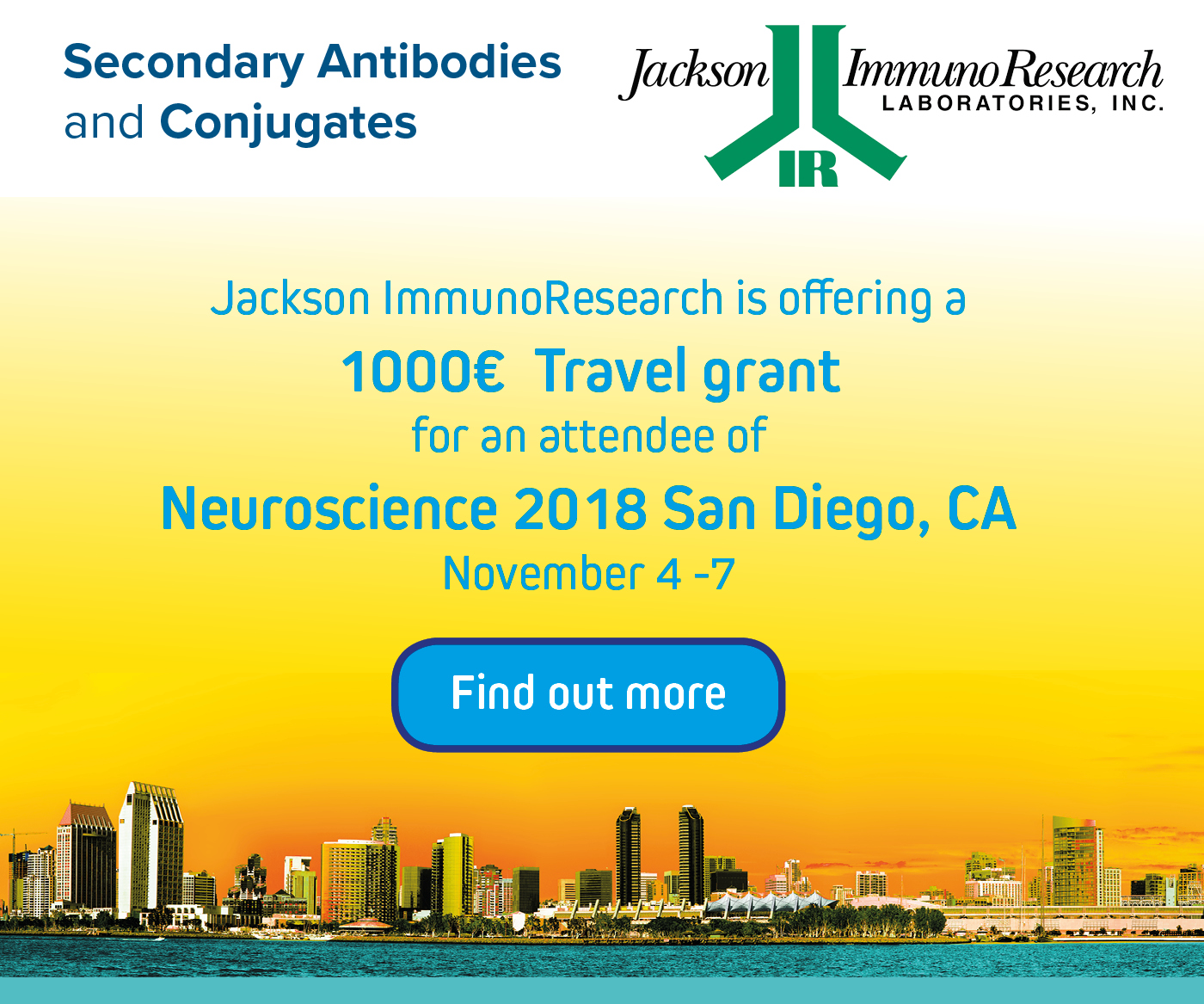 Jackson ImmunoResearch is offering the opportunity to apply for a €1000 travel grant to be put towards the costs of attending SfN Neuroscience in 2018!

Jackson ImmunoResearch is delighted to offer travel funding to support researchers attending academic meetings and conferences. €1000 is available to attend the Society for Neuroscience's 2018 annual conference in San Diego California.  
SfN's 48th annual meeting, Neuroscience 2018, is the world's largest neuroscience conference for scientists and physicians devoted to understanding the brain and nervous system.
Find more information about SfN 2018 here
JIR would like to offer a chance to receive a €1000 travel grant which can be used to attend Neuroscience 2018 this November 4-7 at the San Diego Convention Center.
To apply for JIR's 2018 Neuroscience travel grant fill out the application form (here).
The successful applicant will be selected by Jackson ImmunoResearch by September 30th, 2018. Proof of attendance is required, see terms and conditions.
Application window open: EXTENDED!
Now until October 28th, 2018
Recipients announced:
30th of October 2018



Terms and Conditions:

1. Travel grant will be awarded to support attendance at SfN Neuroscience 2018 held in San Diego, CA, in 2018 and no other event.
2. All applications must be submitted to Jackson ImmunoResearch using the online application between August 17th, 2018 and October 30th, 2018.
3. Any researcher from an academic or non-profit institution is eligible to apply (Technicians, Ph.D./graduate students, Post-doctoral researchers, Principal Investigators).
4. Authorship on an abstract/poster presentation at SfN 2018 is not required.
5. Applicants must complete the application form in full.
6. Travel grants will not be awarded to employees of commercial organizations (i.e. biotech or pharmacological companies).
7. Travel grant recipients will be determined via a random draw by Jackson ImmunoResearch.
8. The recipients will be contacted by email by October 30th, 2018 and also announced online.
9. Travel grants will be paid to the laboratory of the award recipient's principal investigator via the parent university or institution. If paid directly to the PI of the lab, taxes may apply.
10. Attendance at JIR's booth at SFN 2018 will be required to receive travel grant payment and we request you write a short (250 word) summary of your conference experience.
11. Your information will never be sold or used by a third party. See our complete Privacy Policy for more information.
12. Jackson ImmunoResearch travel awards are not affiliated with any society or scientific conference in any way.