Exhibit Schedule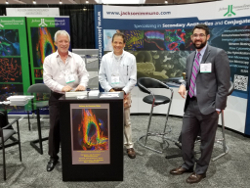 Jackson ImmunoResearch presenting Secondary Antibodies and Conjugates at AACC 2017, San Diego, CA.
Jackson ImmunoResearch Laboratories
Exhibitions and Events
Jackson ImmunoResearch exhibits regularly at a variety of international conferences and university vendor shows. We welcome your visit and enjoy learning about your experiences with our products, areas of expertise, and any unmet secondary antibody needs you might have.
The following is a list of meetings we will attend in 2018. For more information on each society meeting, follow the links to the organizer's web pages.
2018 Exhibit Schedule
Meeting
Details
Location
Dates
Life Science Exhibits
Univ S. California, Health Sci Campus
Los Angeles, CA
Feb 26
Life Science Exhibits
Univ California
Los Angeles, CA
Feb 27
ToxExpo 2018 - Society of Toxicology
Arrange a MeetingBooth# 315
San Antonio, TX
Mar 11-15
Life Science Exhibits
Univ California, Davis Med Center
Sacremento, CA
Mar 14
Life Science Exhibits
Univ California, San Francisco - Parnassus
San Francisco, CA
Mar 15
Life Science Exhibits
LSE - Weill Cornell Med/Rockefeller Univ/MSKCC
New York, NY
Mar 22
Life Science Exhibits
College of Medicine, Bronx
New York, NY
Mar 23
Life Science Exhibits
Univ S. Florida/Moffitt Cancer Center
Tampa, FL
Mar 27
Life Science Exhibits
Univ Florida, Gainesville
Gainesville, FL
Mar 29
Life Science Exhibits
Cleveland Clinic Foundation
Cleveland, OH
Apr 3*
Life Science Exhibits
Cleveland Clinic Foundation
Cleveland, OH
Apr 4*
SoCalFlow - S. California Flow Society
Beckman Center
UC Irvine, CA
Apr 9-10
Life Science Exhibits
Texas Medical Center
Houston, TX
Apr 12
AACR - Amer Assoc Cancer Research
Arrange a MeetingBooth# 922
Chicago, IL
Apr 15-18
EB - Experimental Biology
Arrange a MeetingBooth# 908
San Diego, CA
Apr 21-25
Life Science Exhibits
Columbia University
New York, NY
May 3
AAI - Immunology 2018
Arrange a MeetingBooth# 1027
Austin, TX
May 4-8
Life Science Exhibits
Univ Chicago
Chicago, IL
May 23
Life Science Exhibits
Univ Illinois at Chicago
Chicago, IL
May 24
Cedarlane Expo

Toronto, Canada
May 28
ASM - American Society Microbiology 2018
Arrange a MeetingBooth# 3124
Atlanta, GA
Jun 7-11
Life Science Exhibits
Univ Michigan
Ann Arbour, MI
Jun 12
Life Science Exhibits
Wayne State Univ
Detroit, MI
Jun 14
Life Science Exhibits
Longwood Med Ctr/Dana Farber Cancer Inst
Boston, MA
Jun 20
Life Science Exhibits
Biogen Idec/MIT/Novartis/Whitehead Inst
Cambridge, MA
Jun 21
Life Science Exhibits
Univ Missouri
Columbia, MO
Jul 18*
Life Science Exhibits
Washington Univ, St. Louis
St. Louis, MO
Jul 19*
AACC - Clinical Lab Expo
Arrange a MeetingBooth# 3951
Chicago, IL
Jul 29-Aug 2
Life Science Exhibits
Univ Pennsylvannia
Philadelphia, PA
Aug 16
Life Science Exhibits
NYU School of Medicine
New York, NY
Aug 30
NSH-Nat'l Soc For Histotechnology

St. Louis, MO
Sep 21-26
NIH Research Fall Festival

Bethesda, MD
Sep
ICCS-Int'l Clinical Cytometry Society

Portland, OR
Sep 29-Oct 2
Life Science Exhibits
Mayo Clinic, Rochester
Rochester, MN
Oct 17
Life Science Exhibits
Univ of Minnesota
Minneapolis, MN
Oct 18
Life Science Exhibits
Fred Hutchison Cancer Research Center
Seattle, WA
Oct 24*
Life Science Exhibits
Univ Washington, Seattle
Seattle, WA
Oct 25*
SfN - Society for Neuroscience
Arrange a MeetingBooth# 1737
San Diego, CA
Nov 3-7
Life Science Exhibits
Univ Georgia, Athena
Athens, GA
Nov 14*
Life Science Exhibits
Emory University
Athens, GA
Nov 15*
Amer Society for Cell Biology
Arrange a MeetingBooth# 604
San Diego, CA
Dec 8-12
* Date pending