Photo Gallery
Home

/

Gallery

/

Confocal image of human skin innervation and vascu
Confocal image of human skin innervation and vasculature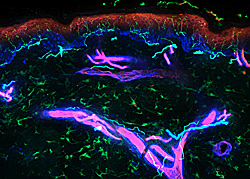 The epidermis (top-red) is separated from the dermis by a basement membrane (blue). Blood vessels (magenta) course through the epidermis and are often accompanied by nerve bundles (green and aqua) that rise vertically within the dermis to form a horizontal subepidermal nerve plexus. Single nerve fibers enter the epidermis. The thick section is triple immunostained to localize:
1. Nerve with rabbit antibody to PGP 9.5 and donkey anti-rabbit Cy3,
2. Basement membrane with mouse monoclonal antibody to type IV collagen and donkey anti-mouse Cy2,
3. Epidermis and vasculature with the biotin-labeled Ulex europaeus agglutinin type I and streptavidin Cy5.
The image is comprised of 12 montaged confocal images. Each confocal image was acquired with a CARV Non Laser Confocal System (Atto Instruments, Rockville, MD) as 25 optical sections collected at 1 mm increments using a 40X plan apochromat objective lens (N.A.=1.3). Each series of optical sections was projected into single in-focus image. Cy2 was colorized as blue, Cy 3 as green, and Cy5 as red.

Image contributed by Dr. William R. Kennedy and Dr. Gwen Wendelschafer-Crabb, University of Minnesota.