Streptavidin and Conjugates
Streptavidin is a tetrameric bacterial protein isolated from Streptomyces avidinii providing 4 high-affinity biotin binding sites (Figure 1). Comparisons of apo and liganded streptavidin crystal structures by Weber et al. (1989) showed that affinity is conferred by multiple hydrogen bonds and van der Waals interactions, which in conjunction with polypeptide loops confine the biotin in streptavidin's interior. The result is one of the strongest non-covalent bonds found in nature, with a femtomolar dissociation constant (Kd ~10-15). Unlike egg-white avidin, which has a net positive charge at neutral pH and contains about 7% carbohydrate, streptavidin has almost no net charge at neutral pH, does not contain carbohydrate, and exhibits lower non-specific background.
Because of its binding characteristics, streptavidin is commonly employed for immunotechniques requiring signal amplification using biotinylated reagents.
Jackson ImmunoResearch streptavidin conjugates are recommended for use with Biotin-SP-conjugated affinity-purified secondary antibodies and ChromPure™ proteins, as well as with any biotinylated primary or secondary antibody, or oligonucleotide.
---
Signal Amplification with Streptavidin
A number of signal amplification techniques are possible with Jackson ImmunoResearch secondary antibodies. Streptavidin is offered for signal enhancement (Figure 2) as a superior technique to the avidin-biotin-HRP complex (ABC) method. Compared with the ABC method, HRP-conjugated streptavidin is more stable, gives less background, and is more sensitive as reported by Shi et al. (1988) and Milde et al. (1989). The increased sensitivity may be due to enhanced tissue penetration and less steric hindrance, since nominal molecular weights for all components of HRP conjugated Streptavidin total less than 200 kDa, considerably lower than the weight of ABC.
Jackson ImmunoResearch offers a comprehensive list of fluorophores and enzymes conjugated to streptavidin for use in enzyme immunoassays, immunohistochemistry, flow cytometry, in situ hybridization, and immunoblotting procedures. Most streptavidin products are freeze-dried in buffer containing stabilizers and preservative. Exceptions are unconjugated streptavidin (freeze-dried from a sodium chloride solution), HRP-conjugated streptavidin (freeze-dried without preservative) and alkaline phosphatase-conjugated streptavidin (sterile-filtered liquid with preservative).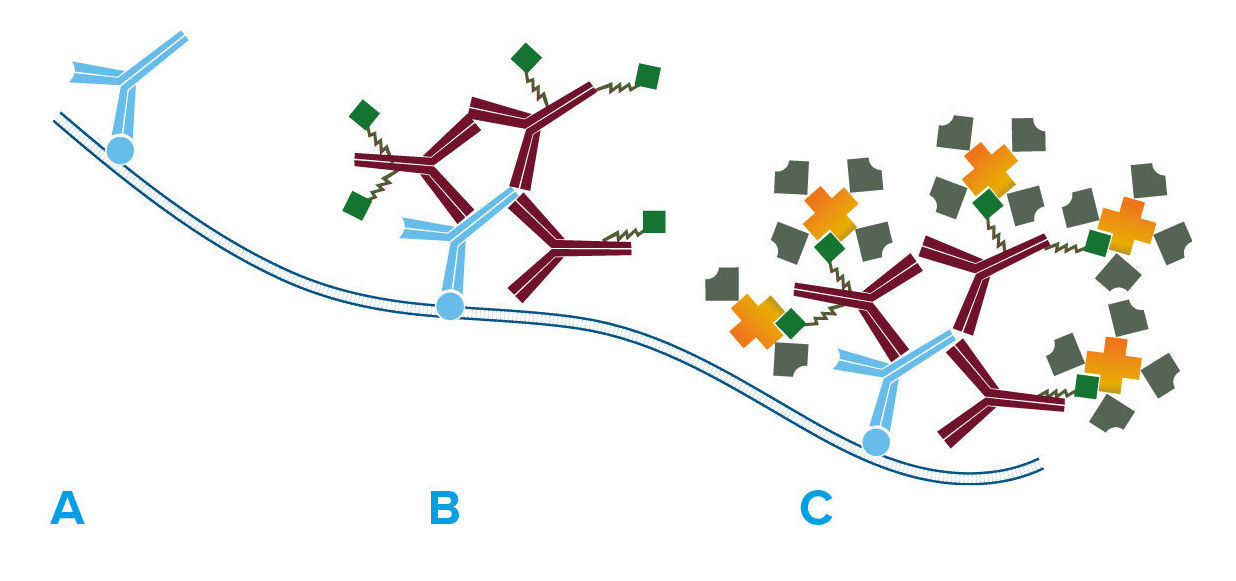 ---
References
Weber, PC., Ohlendorf, DH., Wendoloski, JJ., Salemme, FR. (1989) Structural origins of high-affinity biotin binding to streptavidin. Science., 1989 Jan 6;243(4887):85-8
Shi, ZR., Itzkowitz, SH., Kim, YS., (1988) A comparison of three immunoperoxidase techniques for antigen detection in colorectal carcinoma tissues. Journal of Histochemistry & Cytochemistry Vol 36, Issue 3, pp. 317 - 322
Milde, P., Merke, J., Ritz, E., Haussler, MR., Rauterberg, EW., (1989) Immunohistochemical detection of 1,25-dihydroxyvitamin D3 receptors and estrogen receptors by monoclonal antibodies: comparison of four immunoperoxidase methods. Journal of Histochemistry & Cytochemistry Vol 37, Issue 11, pp. 1609 - 1617