Cyanine, Cy2
Cyanine, Cy™2 Technical Information
Cy2 conjugates have maximum absorption/excitation at 492 nm and fluoresce with a peak around 510 nm in the green region of the visible spectrum like FITC conjugates (520 nm), but they are more photostable and less sensitive to pH changes than FITC. However, for mounting in aqueous media we recommend Alexa Fluor® 488 as the preferred green-fluorescing dye because it is brighter and more photostable than Cy2, FITC, and DyLight 488. A further disadvantage of using Cy2 with aqueous mounting media is its sensitivity to p-phenylenediamine, an anti-fading agent found in some commercial mounting media, which results in weak and diffused fluorescence after storage of stained slides. The main advantage of Cy2 conjugates is increased fluorescence in plastic mounting media. Cy2 is available conjugated to a limited selection of antibodies.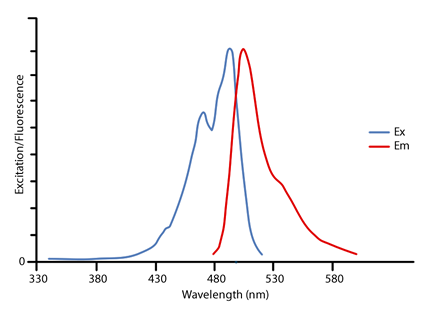 Excitation and emission spectra of Cy2-conjugated affinity-purified secondary antibodies, streptavidin, and purified proteins. Peak heights have been normalized, spectra were obtained with an M-Series spectrophotometer system from Photon Technology International, Inc. Values are approximate, actual values may vary depending on the spectrofluorometer used in each laboratory.
| | Excitation Peak | Emission Peak (nm) |
| --- | --- | --- |
| Cyanine, Cy2 | 492 | 510 |
---
Cy™ is a trademark of GE Healthcare Bio-Sciences Ltd.