DyLight 405
DyLight™ 405 Technical Information
DyLight 405-conjugated secondary antibodies are excited maximally at about 400 nm and fluoresce with a peak at about 421 nm. They are very bright and photostable, but their optimal use is limited to microscopes and flow cytometers equipped with a 405 nm laser and a 420 nm emission filter. Under these conditions, it is possible to perform effective 4-color imaging with good color separation, good photostability, and high sensitivity. The combination of DyLight 405, Alexa Fluor® 488, Rhodamine Red-X, and Alexa Fluor® 647 provides for maximum color separation. Another 4-color dye combination, which may be equally effective but has slightly less color separation, is DyLight 405, Alexa Fluor® 488, Cy3, and Alexa Fluor® 647. DyLight 405 conjugates are an excellent choice for blue-fluorescing secondary antibodies in multi-color labeling protocols. See tables of Whole IgG Affinity-Purified Antibodies, Purified Proteins from Normal Serums, and Streptavidin for all DyLight 405 conjugates.
Excitation and emission spectra of DyLight 405-conjugated affinity-purified secondary antibodies, streptavidin, and purified proteins. Peak heights have been normalized, spectra were obtained with an M-Series spectrophotometer system from Photon Technology International, Inc. Values are approximate, actual values may vary depending on the spectrofluorometer used in each laboratory.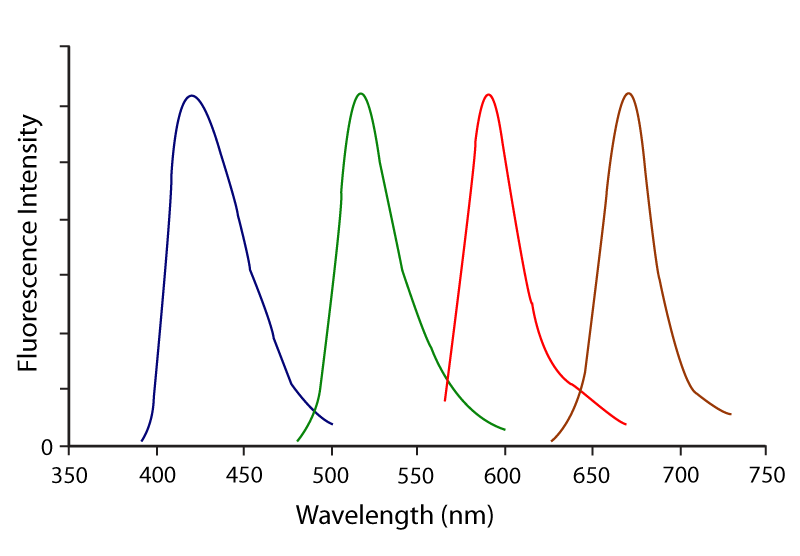 Emission spectra for optimal 4-color imaging using DyLight 405 (blue), Alexa Fluor® 488 (green), Rhodamine Red-X (red), and Alexa Fluor® 647 (purple).
| | Excitation Peak | Emission Peak (nm) |
| --- | --- | --- |
| DyLight 405 | 400 | 421 |
---
DyLight™ is a trademark of Thermo Fisher Scientific, Inc. and its subsidiaries.