R-Phycoerythrin R-PE
R-Phycoerythrin R-PE Technical Information
Phycoerythrin (R-PE) is among several kinds of light-harvesting phycobiliproteins found in red, blue-green, and cryptomonad algae. We offer R-PE, the form found in red macrophytic algae (seaweed). After phycobiliproteins are conjugated to secondary antibodies, there is little fluorescence quenching, which results in conjugates of high specific fluorescence compared with conventional fluorophore-antibody conjugates. R-PE can be excited by light over a wide range of the visible spectrum, is highly water soluble, has a relatively low isoelectric points, and lacks potentially sticky carbohydrates.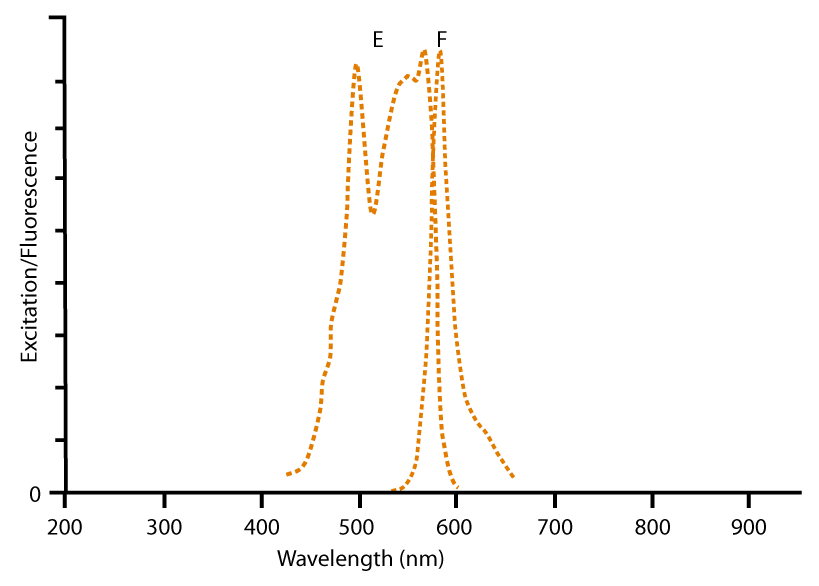 Excitation and emission spectra of R-PE-conjugated affinity-purified secondary antibodies, streptavidin, and purified proteins. Peak heights have been normalized, spectra were obtained with an M-Series spectrophotometer system from Photon Technology International, Inc. Values are approximate, actual values may vary depending on the spectrofluorometer used in each laboratory.
It should be noted that the relatively high molecular weight of R-PE may preclude its use in procedures requiring good penetration into cells and tissues. It is predominantly intended for surface labeling of cells for flow cytometry.
| | Excitation Peak | Emission Peak (nm) |
| --- | --- | --- |
| R-Phycoerythrin R-PE | many, 488 | 580 |