Alpaca Secondary Antibodies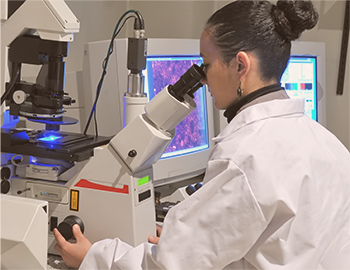 Introducing NEW Alpaca Secondary Antibodies
At Jackson ImmunoResearch, our mission is to develop the widest range of high quality secondary antibodies for the life science community.
The latest addition to our catalog is a new host species - Alpaca! This presents a new species option when goat or donkey secondaries may not be preferable, for example in a multiple labeling assay which has potential unwanted cross reactions. Alpacas are part of the camelid family, along with llamas and camels. The affinity purified polyclonal antibodies produced by these species have binding properties that are similar to those derived from the more familiar host species.
We have produced Alpaca secondary antibodies anti-Mouse IgG (H+L), anti-Rabbit IgG (H+L), and anti-Human IgG (H+L). All have minimal cross reactivity with bovine serum proteins to avoid background from BSA blocking steps and cell culture components. Additionally they are cross-adsorbed against two of the following species - Human, Mouse and Rabbit - depending on their specificity.
Alpaca Secondary antibodies available
Conjugate Options
Unconjugated
Horseradish Peroxidase
Alkaline Phosphatase
Biotin-SP
DyLight™ 405
AMCA
Cy™ 2
Alexa Fluor® 488
FITC
Cy™ 3
Rhodamine (TRITC)
Alexa Fluor® 594
Rhodamine Red-X™
Alexa Fluor® 647
Cy™ 5
View Alpaca Secondary Antibodies
Normal Alpaca Serum is available for blocking.