Brilliant Violet™ 480
Home

/

Brilliant Violet 480™
Brilliant Violet™ 480 Technical Information
BD Brilliant™ Violet 480 (BV480) has an Excitation peak at 436 nm with maximal emission at 478 nm. Brilliant Violet polymer chains can be considered as a collection of optical segments, each with the ability to absorb light and emit fluorescence signal. This results in materials that have a bright fluorescence signal for better resolution and sensitivity.
5-color imaging is possible with BV421, in combination with BV421, Alexa Fluor® 488, Rhodamine-Red™-X, and Alexa Fluor® 647. Switching the nuclear stain from DAPI (emission in the blue region) to DRAQ5™ (which has red emission) frees the violet-blue region of the spectrum to accommodate the two Brilliant Violet dyes. DRAQ5's excitation and emission profiles overlap those of Alexa Fluor 647.
Read More About Brilliant Violet™ Secondary Antibody Conjugates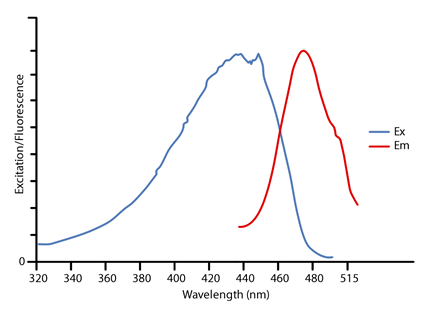 Excitation and emission spectra of Brilliant Violet™480-conjugated affinity-purified secondary antibodies and purified proteins. Peak heights have been normalized, spectra were obtained with an M-Series spectrophotometer system from Photon Technology International, Inc. Values are approximate, actual values may vary depending on the spectrofluorometer used in each laboratory.
---
Excitation Peak
(nm)
Emission Peak
(nm)
Extinction Co-efficient
M -1 cm-1
Quantum Yield
(ɸ F)
Brilliant Violet™ 480
436
478
1416000
0.81
Brilliant Violet™ is a trademark of Sirigen Inc., a Becton, Dickinson and Company affiliate.