Indodicarbocyanine, Cy5
Indodicarbocyanine, Cy™5
Cy5 conjugates are excited maximally at 650 nm and fluoresce maximally at 670 nm. They can be excited to about 98% of maximum with a krypton/argon laser (647 nm line) or to about 63% of maximum with a helium/neon laser (633 nm line). Cy5 can be used with a variety of other fluorophores for multiple labeling due to a wide separation of its emission from that of shorter wavelength-emitting fluorophores. However, we recommend Alexa Fluor® 647 as the preferred far-red-fluorescing dye because it is brighter than Cy5 in aqueous mounting media. The reverse is true when mounting in non-polar, plastic mounting media, i.e. Cy5 is brighter than other far-red-fluorescing dyes, including Alexa Fluor® 647 and DyLight 650. Cy5 is available conjugated to a limited selection of antibodies.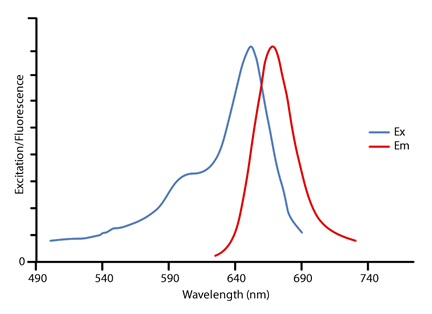 Excitation and emission spectra of Cy5-conjugated affinity-purified secondary antibodies, streptavidin, and purified proteins. Peak heights have been normalized, spectra were obtained with an M-Series spectrophotometer system from Photon Technology International, Inc. Values are approximate, actual values may vary depending on the spectrofluorometer used in each laboratory.
| | Excitation Peak | Emission Peak (nm) |
| --- | --- | --- |
| Indodicarbocyanine, Cy5 | 650 | 670 |
---
Cy™ is a trademark of GE Healthcare Bio-Sciences Ltd.