ChromPure™ Proteins (from Normal Serums) and Conjugates
ChromPure is our trade name for highly purified proteins from the serum of non-immunized animals. The purified immunoglobulins in this section do not represent antibodies directed against known antigens.
Preparation
ChromPure proteins are prepared by a variety of methods, including ion-exchange, gel-filtration, hydrophobic, dye-ligand, metal-affinity, Protein A, and immunoaffinity chromatographies. Enzyme digestion is used to generate F(ab')2 (pepsin), and Fab and Fc (papain) fragments from highly purified whole molecules.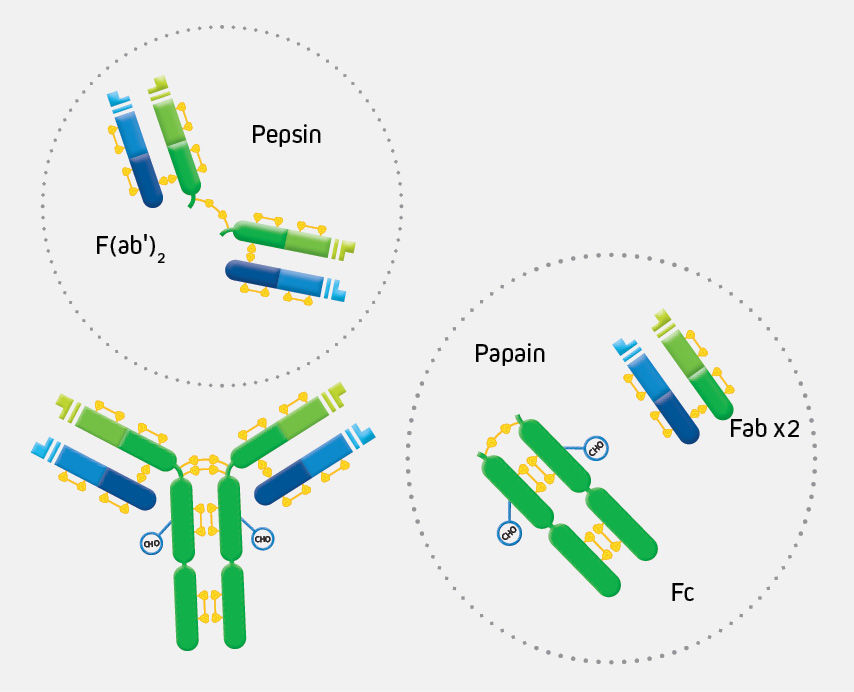 The digestion of IgG (approximate MW = 160 kDa) yields a number of different fragments. Papain digestion generates two monovalent Fab fragments and an Fc fragment, each about 50 kDa. Pepsin digestion degrades the Fc domain, leaving a divalent F(ab')2 fragment with approximate MW of 110 kDa.

Purity
No contaminating whole molecules or undesired fragments are observed at a protein concentration of 20 mg/ml when tested by immunoelectrophoresis against anti-whole serums, anti-immunoglobulins (class specific), or anti-fragment specific antisera.
Applications
ChromPure proteins are ideal for use as experimental controls (isotype controls).
Note: ChromPure proteins are not intended for use as immunogens to produce monospecific antibodies, nor should they be used as molecular weight markers.
Format
Unconjugated ChromPure proteins are supplied as sterile-filtered liquids without stabilizers or preservative. Conjugated ChromPure proteins are freeze-dried with stabilizers and a preservative, with the exception of peroxidase conjugates, which do not contain a preservative.
---
We also have a limited inventory of DyLight™ 488 / 549 / 594 / 647, Cy™2, Cy™5, and Texas Red® conjugates.