Alexa Fluor® 594
Alexa Fluor® 594 Technical Information
Alexa Fluor® 594-conjugated antibodies absorb light maximally around 591 nm and fluoresce with a peak around 614 nm They are brighter, more photostable, and more hydrophilic than Texas Red conjugates. Alexa Fluor® 594 conjugates are brighter than red-fluorescing conjugates, and they provide more color separation from green-fluorescing dyes than DyLight 549, Cy3, and TRITC conjugates. They are the best choice for immunofluorescence detection in the deep-red region of the visible spectrum.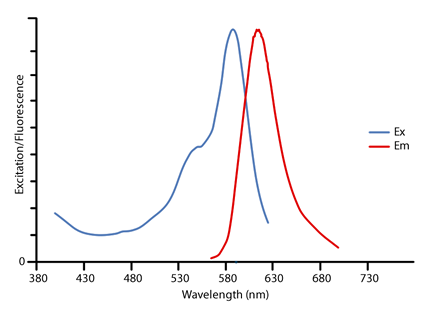 Excitation and emission spectra of Alexa Fluor® 594-conjugated affinity-purified secondary antibodies, streptavidin, and purified proteins. Peak heights have been normalized, spectra were obtained with an M-Series spectrophotometer system from Photon Technology International, Inc. Values are approximate, actual values may vary depending on the spectrofluorometer used in each laboratory.
| | Excitation Peak | Emission Peak (nm) |
| --- | --- | --- |
| Alexa Fluor® 594 | 591 | 614 |
---
Alexa Fluor® fluorescent dyes are a trademark of Life Technologies Corp.