Alexa Fluor® Fluorescent Dyes Conjugated to Affinity Purified Secondary Antibodies and to Other Proteins
Alexa Fluor® fluorescent dyes are widely recognized as superior fluorescent dyes available for conjugation. They are highly water soluble and remain fluorescent from pH 4 to pH 10. The detection level of any fluorophore-antibody conjugate depends on brightness and photostability of the dye; antibody activity, specificity, and cross-reactivity; and the optimal moles of dye per mole of antibody. These parameters have been researched for each dye conjugate to optimize the level of antibody detection and minimize background.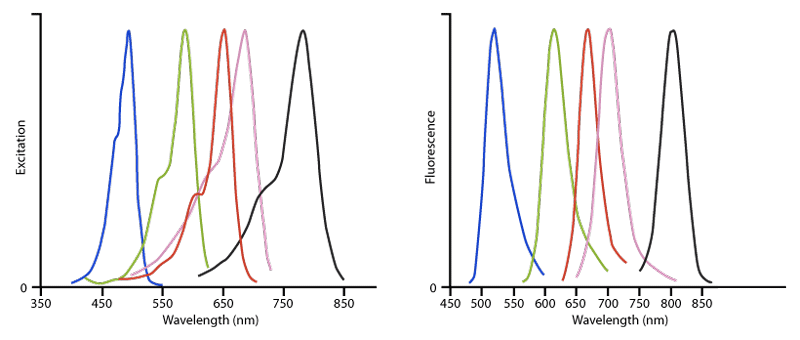 Figure 1. Excitation (left) and emission (right) spectra of Alexa Fluor®-conjugated affinity-purified secondary antibodies, streptavidin, and purified proteins. The dyes are Alexa Fluor® 488 (blue), Alexa Fluor® 594 (green), Alexa Fluor® 647 (red), Alexa Fluor® 680 (pink), and Alexa Fluor® 790 (black).
This figure illustrates the relative shape and position of each fluorophore conjugate in the peak region of its excitation and fluorescence emission. Quantitative comparisons should not be made since peak heights have been normalized. All spectra were obtained with an M-Series spectrophotometer system from Photon Technology International, Inc.
Table 1. Approximate peak wavelengths of excitation and emission for Alexa Fluor®-conjugated, affinity-purified secondary antibodies offered by Jackson ImmunoResearch in order by increasing peak of emission. Approximate values are given for purposes of comparing one fluorophore with another. Actual values may vary depending on the spectrofluorometer used in each laboratory.
Alexa Fluor® fluorescent dyes are a trademark of Life Technologies Corp. They are provided under an agreement between Life Technologies Corp and Jackson ImmunoResearch Laboratories, Inc and the manufacture, use, sale, or import of these dyes is sold pursuant to a license from Life Technologies Corp for use of its fluorescent dye technology. The sale of these dyes or products containing these dyes is expressly conditioned on the buyer not using them (1) in manufacturing; (2) to provide a service, information, or data to an unaffiliated third party for payment; (3) for therapeutic, diagnostic, or prophylactic purposes; (4) to resell, sell, or otherwise transfer this product or its components to any third party, or for any other commercial purpose. For information on purchasing a license to this product for purposes other than research, contact Life Technologies Corp, 5791 Van Allen Way, Carlsbad, CA 92008 or outlicensing@lifetech.com.