Alexa Fluor® 647
Alexa Fluor® 647 Technical Information
Alexa Fluor® 647-conjugated antibodies absorb light maximally around 651 nm and fluoresce maximally around 667 nm. They are brighter than Cy5 and DyLight 650 in aqueous mounting media. Alexa Fluor® 647- and APC-conjugated secondary antibodies are the best choice for flow cytometry when secondary antibodies fluorescing at these wavelengths are desired. Alexa Fluor® 647 conjugates are the best choice of far red-emitting dyes for multiple-labeling detection with a confocal microscope.
A significant advantage of using Alexa Fluor® 647 over lower wavelength-emitting dyes is the low autofluorescence of biological specimens in this region of the spectrum. However, because of its peak emission at 667 nm, Alexa Fluor® 647 cannot be seen well by eye, and it cannot be excited optimally with a mercury lamp. Therefore, Alexa Fluor® 647 is not recommended for use with conventional epifluorescent microscopes. It is most commonly visualized with a confocal microscope equipped with an appropriate laser for excitation and a far-red detector. Alexa Fluor® 647 conjugates are less expensive alternatives to allophycocyanin conjugates for flow cytometry.
Alexa Fluor® 647 has good color separation from DyLight 405, Alexa Fluor® 488, and Rhodamine Red-X for effective 4-color imaging.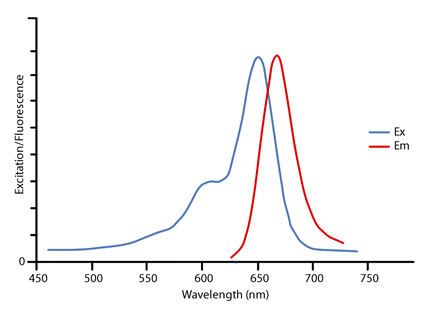 Excitation and emission spectra of Alexa Fluor® 647-conjugated affinity-purified secondary antibodies, streptavidin, and purified proteins. Peak heights have been normalized, spectra were obtained with an M-Series spectrophotometer system from Photon Technology International, Inc. Values are approximate, actual values may vary depending on the spectrofluorometer used in each laboratory.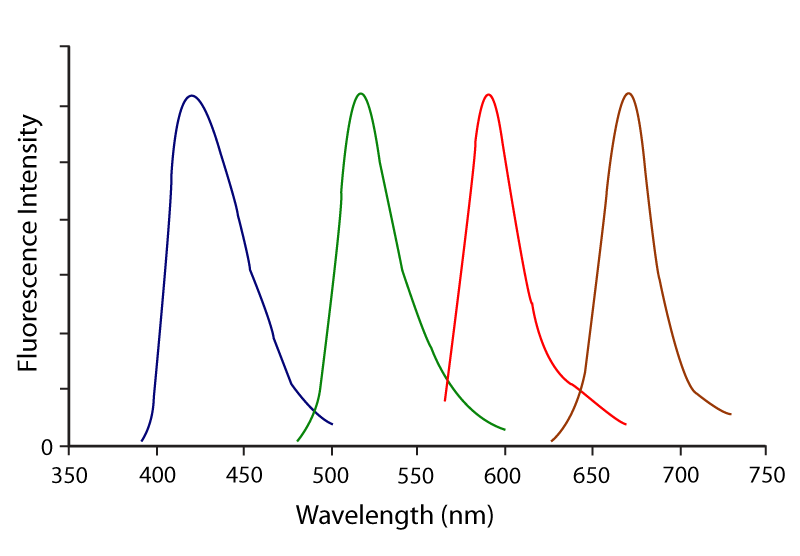 Emission spectra for optimal 4-color imaging using DyLight 405 (blue), Alexa Fluor® 488 (green), Rhodamine Red-X (red), and Alexa Fluor® 647 (purple).
| | Excitation Peak | Emission Peak (nm) |
| --- | --- | --- |
| Alexa Fluor® 647 | 651 | 667 |
---
Alexa Fluor® fluorescent dyes are a trademark of Life Technologies Corp.