Alexa Fluor® 488
Alexa Fluor® 488 Technical Information
Alexa Fluor® 488-conjugated antibodies absorb light maximally at 493 nm and fluoresce with a peak around 519 nm. In aqueous mounting media they are brighter than FITC, Cy2, and DyLight 488. Alexa Fluor® 488 conjugates are recomended for maximum sensitivity for all immunofluorescence procedures requiring a green-fluorescing dye, except for protocols that include mounting in plastic mounting media.
Alexa Fluor® 488 has good color separation from DyLight 405, Rhodamine Red-X, and Alexa Fluor® 647 for effective 4-color imaging.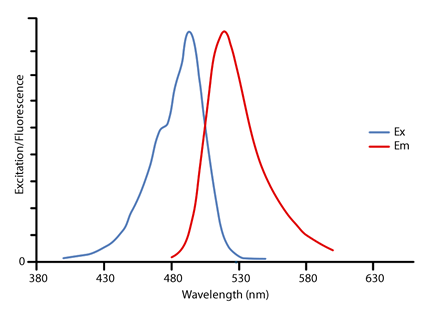 Excitation and emission spectra of Alexa Fluor® 488-conjugated affinity-purified secondary antibodies, streptavidin, and purified proteins. Peak heights have been normalized, spectra were obtained with an M-Series spectrophotometer system from Photon Technology International, Inc. Values are approximate, actual values may vary depending on the spectrofluorometer used in each laboratory.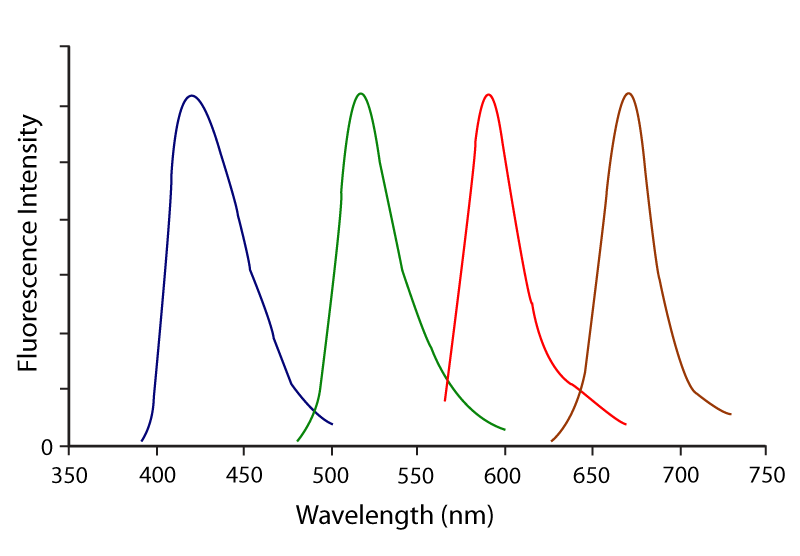 Emission spectra for optimal 4-color imaging using DyLight 405 (blue), Alexa Fluor® 488 (green), Rhodamine Red-X (red), and Alexa Fluor® 647 (purple).
| | Excitation Peak | Emission Peak (nm) |
| --- | --- | --- |
| Alexa Fluor® 488 | 493 | 519 |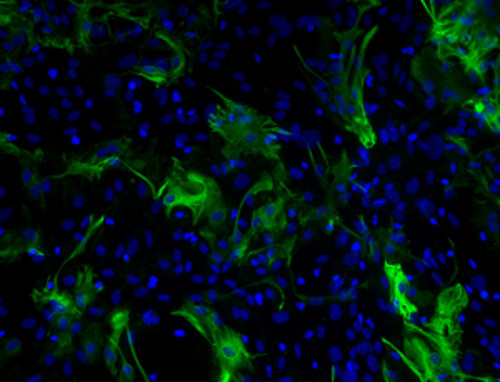 GFAPalpha DAPI primary astrocyte culture 1. Primary mixed glial culture derived from P0-P3 mouse pups, stained for GFAP C-term (Santa Cruz sc-6170) and donkey-anti-goat Alexa Fluor® 488 (Jackson ImmunoResearch 705-546-147). Authors: Carlyn Martina-Mamber, Elly M. Hol.
---
Alexa Fluor® fluorescent dyes are a trademark of Life Technologies Corp.