Alexa Fluor® 488 Technical Information
Alexa Fluor® 488 - conjugated antibodies absorb light maximally at 493 nm and fluoresce with a peak around 519 nm. In aqueous mounting media, they are brighter and more photostable than FITC, Cy™2 and DyLight™ 488. Alexa Fluor® 488 conjugates are recommended for maximum sensitivity for all immunofluorescence procedures requiring a green-fluorescing dye, except for protocols that include mounting in plastic mounting media (see Cy™2 for more information).
Alexa Fluor® 488 has good color separation from DyLight™ 405, Rhodamine Red-X, and Alexa Fluor® 647 for effective 4‑color imaging.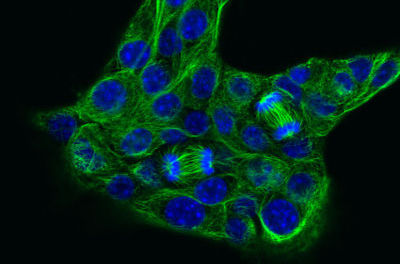 Alexa Fluor® 488 is available conjugated to:
| | Excitation Peak (nm) | Emission Peak (nm) |
| --- | --- | --- |
| Alexa Fluor® 488 | 493 | 519 |
---
Spectra Viewer
Use the spectra viewer below to compare Alexa Fluor® 488 with other fluorophores, along with instrument specifics (laser/filter) for suitability in your assay.
---
Alexa Fluor® fluorescent dyes is a trademark of Life Technologies Corp.